THE SMILE OF THE YEAR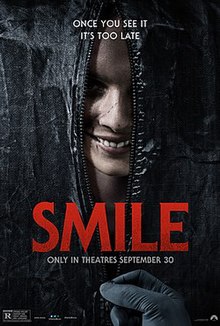 "Smile" is working its way up to be an original horror movie. So far, "Smile" has made around $92 million and has only been in theaters since September 22.
Even with the movie not having as many jump scares as a horror film should, it makes its way up to the top quickly. A viewer said, "Very scary, I screamed, I can't believe this! Seriously, the actors have an awesome, great story, and suspense builds up!" Most reviews on this film were about how good it is and how the actors were.
Other people in reviews on this movie talk about how the story wasn't good, but this film was more of a "to be continued" kind of thing. Director Parker Finn says, "I think there could still be a lot of fun stuff to do with Smile, but if there was any story that was gonna continue, I'd wanna make sure that it's not a retread of what we already watched, that it's something new and that it would have more surprises in store for the audience." They clearly plan on making more than one movie with "Smile," and that is why everyone is starting to say that it will turn out as a horror film original.
The biggest thing that people debate on this film is the story. A lot of different people have different opinions on it. The story line of "Smile" is "after witnessing a bizarre, traumatic incident involving a patient, Dr. Rose Cotter starts experiencing frightening occurrences that she can't explain. As an overwhelming terror begins taking over her life, Rose must confront her troubling past in order to survive and escape her horrifying new reality." Most people's comments on the story line are negative because they plan on continuing it.
Overall, the film "Smile" is recommended for teens and adults audiences. It is rated 7.5/10.