TAKING A TRIP TO KNOTT"S BERRY FARM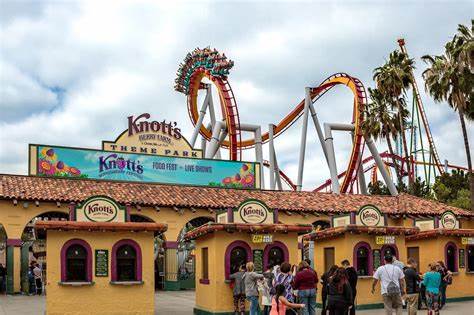 Knott's Berry Farm is a theme park located in Buena Park, California that has been open since 1923. With 57 acres of land, Knott's Berry Farm has ten roller coasters and two water rides.   
Knott's Berry Farm tickets can be purchased on their website and cost anywhere from $70 to $90. This park also offers season passes, that can cost $18/month, $24/month, and $37/month. The theme park is also known to hold events the park guests love. One that is currently going on now is called Boysenberry Festival.  
Knott's Berry Farms theme park has a number of different rides for guests to enjoy. One water rider called the Calico River Rapids is a park favorite. This ride is one where you and up to five others sit in a tube style device to go down some white water rapids. This ride is a thrilling-seeking ride and a family style ride combined in one. This is a ride where riders need to be only 46 inches tall to ride, and fast lane passes are able to be used. 
Another ride that guests thrill seeking guests love is called the Silver Bullet. This is a roller coaster style of ride that twists and turns through a over two-minute experience. This ride goes up to 55 miles per hour over the 3,125 feet of track. The ride includes 105 Feet Tall Loop, a "Cobra Roll," a "Zero-G Roll," and  two "Corkscrew Helixes." This ride also goes high above a reflecting lake and provides incredible views of Knott's Berry Farm throughout the ride.
Knott's Berry Farm has been rated anywhere from a 4.5 out of 5 stars. This very liked park has great rides and is greatly enjoyed by its many visitors.