MOORE TRADED TO THE BROWNS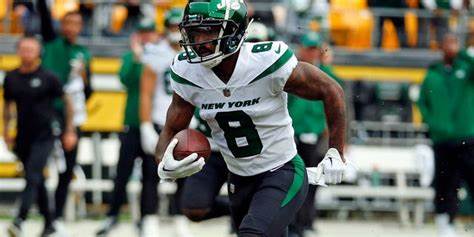 Is the Elijah Moore trade a good trade?
Moore has had a decent career for the Jets but never unlocked his full potential because the Jets were so bad.
He was traded to the Browns for a second-round pick in the 2023 draft, but the Browns also require a third-round pick in the 2023 draft with Elijah Moore.
Moore is excited to play with new teammates.
"I heard about [Cooper] when I was young. So, hearing him do his thing as far as how he moves and just his dedication to football is how we're built over there. So, major respect," says Moore according to the Akron Beacon Journal.
A second-round pick in 2021, Moore has appeared in 27 games with 15 starts and recorded 50 receptions for 984 yards and six touchdowns. He was one of the top rookie receivers at one point during 2021, totaling 34 catches for 459 yards and five touchdowns in his last six games of the year before a quad injury ended his season in Week 13.
Moore has proven to be a good key factor and a good wide receiver so far in his career and has the potential to be better.
Moore is a good player and has a lot of potential.
"Selected by the Jets with the 34th overall pick in the 2021 draft, rookie wide receiver Elijah Moore finished as the Jets' leader in receiving yards (538) and receiving touchdowns (5) despite missing six games. Moore's performance over his final few games of the season was a sneak peek into just how good he could possibly become," says CBS Sports analyst Jared Dubin.
Moore coming to the Browns is good because with his speed, the Browns would be a big threat in the passing and running game. Moore has proven to be fast because his combined speed is 4.35.
He is 5'10, 179 pounds, and attended Ole Miss in college with a good career there.
Moore is a very speedy receiver.
¨Moore, whose birthday is on Monday, will be 23 as he enters his third NFL season. He's shown several glimpses of becoming a top wideout in his first two seasons and compiled 80 receptions on 142 targets for 984 yards and six touchdowns in his career. That includes 43 passes for 538 yards and five touchdowns in 11 games his rookie season. Moore's best trait is arguably his speed. He clocked in at 4.35 seconds in the 40-yard dash at his pro day with Ole Miss in 2021, which led him to become the 34th overall pick by the Jets. He also has strong hands and has recorded just three drops over his first two seasons," says Browns analyst Anthony Polsal.