"ONE TREE HILL" SEASON FIVE: FOUR YEARS LATER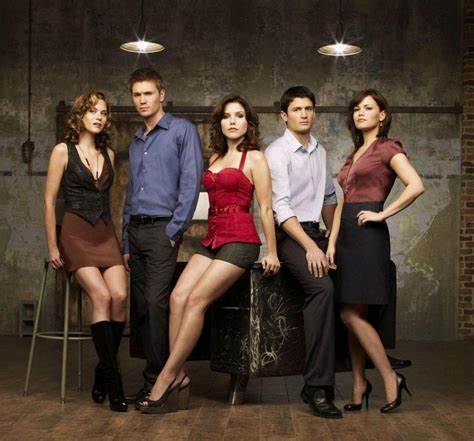 Mia Clyde, Entertainment Writer
March 30, 2023
Favored television series "One Tree Hill" came out with its popular four-year time-jump season that premiered on January 8, 2008. 
Season four of "One Tree Hill" once more brings back its main characters, Chad Michael Murray (Lucas Scott), James Lafferty (Nathan Scott), Hilarie Burton (Peyton Sawyer), Bethany Joy Lenz (Haley James), and  Sophia Bush (Brooke Davis). Throughout this season, new things come for all characters. Nathan is in denial and depressed over his injury that may have ended his basketball career, Haley is annoyed by Nathan's selfishness and is focused on taking care of her four-year old son, Jamie, Lucas has just signed a book deal for his novel "A Kindness Of Ravens," Brooke is now the owner of Clothes Over Bros, her newly popular and well-known clothing brand set in New York, and lastly, Peyton is the assistant at a big-time record label in Los Angeles. As Peyton is missing Lucas and is homesick, she calls Brooke to tell her. The two end up flying back to Tree Hill, leaving their "famous" lives behind because they realize that there is something missing in the midst of their success: a place to call home. As the season progresses, many changes and old habits are brought to Tree Hill. 
As season five changes almost everything for each of the characters, something that never changed in the midst of adversity for Nathan and Haley was their "perfect" relationship. Even though Nathan faced and had to overcome his spinal cord injury, Haley and their son Jamie saved him from going really dark. That in itself was admirable and something that showed the two were always meant for each other. Towards the end of the season, Nathan gets clearance from the doctor and starts on his comeback to the game with one of the high school basketball players, Quentin Fields. 
Another bright spot of the season was when Brooke fostered Angie, a baby girl. Throughout the season, Brooke realizes the things that were missing from her life when she was in New York was Tree Hill and family. Even though she had her friends, she became interested in adopting a child. Because she was not married and was so young, the adoption agency does not let her actually adopt a child, but foster one for six weeks. When Brooke gets her baby for the time, she grasps that this was really what was missing from her life, the chance to unconditionally love a child. But, when the six weeks are up, she has to send Angie back to the country she is from and Brooke is heartbroken. Surrounded by family and friends, Brooke realizes that Angie will always remember her, and she will always remember the feeling of loving someone unconditionally, which was what she actually needed from the beginning. 
All in all, season five of "One Tree Hill" was the most mature and adjusted season of the series. This season brought new beginnings and brought back some old habits for each of the characters. Each character grew older and more mature at this point and were now newly adults. This season was liked and disliked by fans due to the time jump and is considered the most altered season in the franchise. It is recommended for ages 14 and up and sets up the show for the future seasons of "One Tree Hill."