VON MILLER INJURY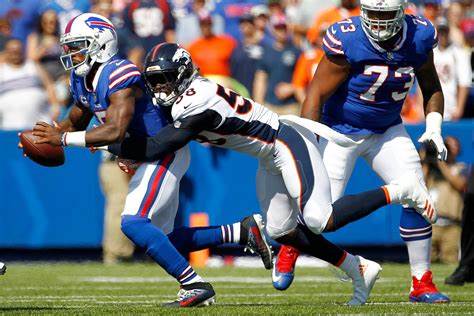 Von Miller was carried off by cart on November 26th in Detroit against the Detroit Lions. Von Miller was going for a tackle, when a lineman from Detroit fell on his leg late in the second quarter. It was later found out that he had a lateral meniscus tear in his knee.
Von Miller has been a great part of the Bills defense having 8 sacks and 3 assists this season so far. Miller has also been one of the only major players on the Bills defense that hasn't been injured until now.
Miller was placed on injury reserve to miss the next four games. Miller is not rushing his return though, so he doesn't get injured again.
"He's been doing treatment and trying to rehab it. We don't want to rush him back, and he's a competitor. That's why we love him. That's why he's so great. The competitor in him — if he could wheel it out there tonight, he would do it. We just think in talking to the medical people that the best decision right now is to give this time, and that gives him the best opportunity to help us down the stretch," says Bills General Manager Brandon Beane.
It isn't as bad as people think though. Two returning edge rushers have recovered from ankle injuries and played on Thursday night against the New England Patriots. AJ Epenesa and Greg Rousseau both returned to play against the New England Patriots. AJ Espenesa had two tackles and one sack, while Greg Rousseau had four tackles.
"It's really just, it's that time where they call our number. They call all four of us, all four defensive edge rush guys. It's our time in the season. It's time for us to step up. It's our opportunity to make plays, and I know the four of us are gonna make the most of it. So, we're looking forward to this next couple weeks," says Defensive End A. J. Epenesa after the game.
Von has been ranked third for pressuring the quarterback. He also leads the Bills in the most sacks, pass rush win rate and pressure percentage.
"Miller ranks third in the NFL in quarterback pressures (38) behind Dallas Cowboys linebacker Micah Parsons (46) and Patriots linebacker Matthew Judon (39). No other Bills player has more than 12 pressures, with Miller's 216 pressure gap the largest in the NFL this season. Miller leads the Bills in sacks (eight), pass rush win rate (23.7%) and pressure percentage (14.6%)," says Alaina Getzenberg from ESPN.