DICK'S DELIVERS GOODS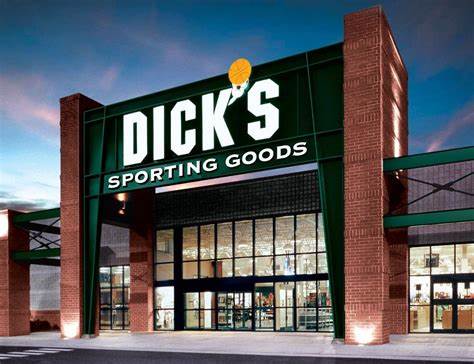 If you ever are searching for name-brand sporting goods, equipment, apparel, and footwear, Dick's Sporting Goods would be the place you want to go to.
Dick's Sporting Goods was founded by 18-year-old Richard "Dick" Stack in 1948. There are over 854 stores and 50,100 employees. Dicks is America's biggest sporting goods retailer. There is a location on 224 in Boardman across from the Shops at Boardman Park.
Dick's has equipment for every sport. Their sports section consists of football, bikes and cycling, water sports, wrestling, skates and scooters, track and field, basketball, volleyball and pickleball. They also have equipment for rugby, golf, field hockey, cricket, bowling, baseball, lacrosse, climbing, table tennis and softball. The rest of their sport section consists of hunting and shooting, gymnastics and dance, ice skating, hockey, cheerleading, running, boxing, yoga and tennis. 
Dick's also has a women, men, and kids section. In each of those sections, you can find various kinds of clothing. In the women's section they have shirts, hoodies, jackets, fleece, leggings, shorts and  swimwear. They also have accessories like bags and backpacks, hats, socks, gloves, scarves, headbands, jewelry, hair ties and sunglasses. 
Dick's Sporting Goods deserves a rating of  5/5. They have everything you need in order to have an active and fit life.