"GROWN UPS" WILL LEAVE YOU BURSTIN' WITH LAUGHTER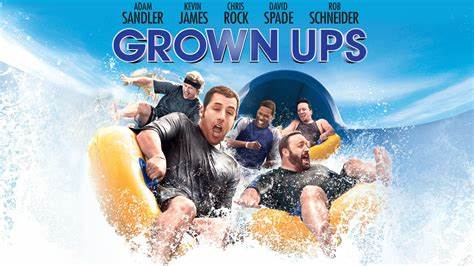 Have you ever seen a movie that brightens up your whole day? That is what "Grown Ups" will do. The comedy involved in the movie is a must see.
The film stars Adam Sandler and goes down as one of his most popular movies. The comedy masterpiece highlights a group of grown ups who grew up together who spend a weekend together in their childhood lake house and create many hilarious moments. It also is a great family movie.
A great part of the movie would be the setting. The lakehouse used in the majority of the film was a great place to film. It has everything you could ask for. Great nature along with many comedic elements involved in the setting. You can't ask for a better setting to be used.
 Another plus about the movie was the cast selected for the film. The cast played very well together and all brought their own unique element to the film. You could really buy into the story behind the characters and their childhood. It was a piece that helped bring the film together.
This film deserves a 4.5 out of 5 stars. It was a great movie to experience and one of Adam Sandler's greatest films. This film is recommended for anybody that loves to laugh.