BARTHOLOMEW LEADS THE TEAM TO VICTORY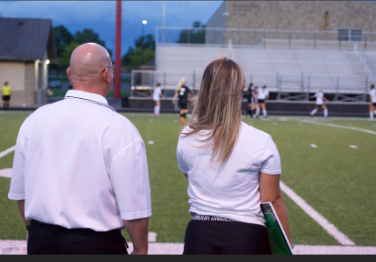 Sabrina Bartholomew is in her third year as assistant coach for the girls' varsity soccer team. 
In the last three years she has been coach, the team has only seemed to be going up. Beating and scoring on teams they never have before and getting their first playoff win against Girard. The team is very young, consisting of mostly freshmen and sophomores, so they have a lot more time for improvement. Even just through this season there has already been a ton of growth on and off the field. 
They are starting to understand the game more and are gaining more confidence to take more risks. 
"Our soccer IQ has been improving each game and we seem to be gaining more confidence to try new things out on the field," says Coach Bartholomew.
This season they ended with a record of 6-10-1, beating  teams like Jefferson, Girard, Columbiana and East Liverpool. They were also able to have a home playoff game which they ended up winning. Unfortunately, their great season came to an end after losing to West Branch in the second round. 
It was a good season, but it's now time to start thinking about next year.
"We are going to be doing many different things to prepare us for next season like an indoor league and many open gyms over the spring and summer," says Bartholomew.
Coach Bartholomew is already thinking about things that need to be worked on for next season. With the amount of talent that this team has, they have a good chance of being very successful. They only have one senior this year, so a majority of the team will be returning. 
In this offseason, the Wildcats have a lot to improve on to be the best they can be. 
"We need to start making faster decisions, seeing open players and learning from our mistakes," says the three-year coach.